Attracted for wild boar - roe - buck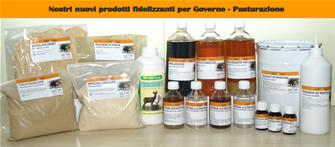 2

Concentrated product to be diluted. Plant protection use. Against attacks by rabbits and deer.

3

Kibble food prepared to combat the presence of wild boars in crops, gardens, lawns, etc. and any place to protect against the damage caused by wild boars.

4

Trovit SZP193 Trovit 193 is a complex ore feed for the provision of specific and roe deer.

5

SZP194 is a concentrate of cereal with apple pulp, minerals and trace elements, sesame cake, molasses, corn flakes and is simply be mixed in a ratio of 50:50 with their grain (corn) to a mixture of the finished feed.

6

2295 is a special structure for the supply of cereals from September to the end of January. Hydro thermal digested cereals, updated with puffed corn provide the highest energy density and protein.

7

295 full is a classic game of cereal with a balanced composition. It is designed for feeding between September and January

8

SZP395 is a special cereal with reduced protein content. And 'specially designed for power from the end of January.

10

8295 is a special wild cereals. It contains a special additive PARA MAXIN - support the resistance of the intestine. Especially high pest pressure is a healthy, resilient intestine of great importance!

11

SZP94 is a concentrated mix classic. High mineralization and vitamins, blended with sesame added ergibte mixed with apple pulp, corn, bran, balanced nutrition ....